Home » Europe, News
Mighty Manchester – Jewel of the North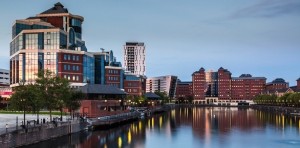 There aren't many places you can go in the world without someone recognising the name 'Manchester', thanks to its' two world famous football teams that call the city their home. But what is it actually like to live in Manchester? And why might you consider such a move? Here are some  very good reasons why you should consider joining the 5.2 million people, who choose to live in The Capital of The North.
Location:             Like Rome and San Francisco, Manchester was built in a lush valley nestled among seven hills which form the foothills of the Peak District. Surrounded by what is probably the best motorway network  serving any of the major cities, Manchester is within easy reach of just about every other major city in the UK. Within a maximum of 20 minutes, virtually every family in Manchester can be enjoying a day out in the lush countryside. When the BBC decided to relocate to Media City in Manchester, the staff to be moved 'up north' all groaned, envisaging mile after mile of Coronation Street type homes, cloth caps, clogs and black puddings. And yet nothing could be further from the truth, as they have now discovered. True there are still some streets of the old terraced houses, close to the city centre. But in the main the suburbs are as good as you get in any other UK city.
Nightlife:            Manchester is the liveliest city outside of London. It has more clubs per square mile than London itself. Major venues include dozens of theatres, playing top class shows throughout the year. A fan of live music? Then Manchester has it all. Ranging from the Apollo which hosts major bands and rock stars through to the Bridgewater hall, the Lowry theatre, the MEN arena, Jazz clubs, rock venues, opera, ballet, the world famous Halle Orchestra, live street music and even its own 'Gay village'.
Eating out:        Manchester offers as good a choice of quality eateries as can be found in London. A wide choice of French, Italian, Spanish, Greek, Turkish and Egyptian restaurants can be found here. There is also the Chinatown quarter in the city centre where you can find some 300 – 400 Chinese, Thai, Malaysian and Japanese restaurants. The world famous "Curry Mile" just 10 minutes from the city centre, plays host to 200 – 300 Indian, Bangladeshi and Ceylonese restaurants – and the really good news – prices in Manchester are less than half of what you would expect to pay in London.
Sports facilities:      Sporting venues abound in Manchester. It's home to the national velodrome and the national BMX centre. Also Sale water park where you can sail and jet-ski. Salford Quays which offers all types of water based activities from model boat sailing to rowing eights.  The Trafford centre where you can go sky-diving and indoor snow ski-ing. City Airport Manchester hosts numerous companies offering microlight, fixed wing and helicopter training and pleasure flights. And all of this is within a 15 minute drive of the city centre.
 Remember to re-visit on a regular basis – the next article on Manchester will cover new opportunities in the housing market.