Home » News
Cheshire East Council to fight Government over Sandbach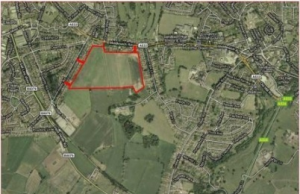 Source: Place North West
Cllr Michael Jones, leader of Cheshire East Council, is seeking legal advice over Eric Pickles' decision to allow Fox Strategic Land & Property permission to build 280 houses after a lengthy court battle.
Jones said the Secretary of State's decision this month to overturn an inspector's recommendation at Abbey Fields was a "blow to Sandbach" and the development was "unsustainable".
The leader has now written to the Government to express his "disappointment and dismay on behalf of Sandbach residents". Jones added: "We will be looking at all our options to try and put forward a robust case and persuade the Government that this development is surplus to requirements and not what the people of Sandbach want."
The council said it "is making rapid progress with its Local Plan and has just approved its five year housing land supply" which "should act as a defence against speculative developers."
A finalised Local Plan is expected to be sent for approval to the Government in summer.
A spokesman for the council said: "Cheshire East is one of many local authorities without a Local Plan in place following unsupported Local Government Reorganisation prior to 2009 [the dissolution of Cheshire County Council, six district councils and creation of Cheshire East and Cheshire West & Chester.
The council is currently consulting on the development strategy for the borough, which is a robust, jobs-led strategy to deliver targeted and sustainable development in Cheshire East."   The council said its plan will deliver 27,000 new houses and 20,000 new jobs.