Home » Europe, News
Ecology becomes first UK-headquartered member of Global Alliance for Banking on Values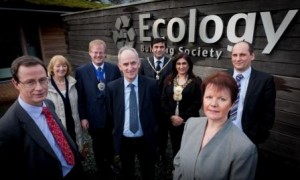 Ecology has been announced as the latest sustainable finance organisation to join the Global Alliance for Banking on Values (GABV). This membership is a strong endorsement of Ecology's social and environmental credentials and will see them extend their influence at the global level.
For GABV, the addition of Ecology further bolsters their position as a leading force in the drive for a more sustainable banking system. Ecology is the first UK-headquartered financial institution to join the membership organisation, while European bank Triodos gives further UK representation in the Alliance through its Bristol-based branch.
Commenting on Ecology's GABV membership, Ecology Chief Executive Paul Ellis said:
This is a very exciting step for Ecology. Joining GABV gives us the chance to become a force for change at an international level and to combine strengths with other leaders in sustainable finance to build a viable, positive alternative to the current banking system. Working together, we can continue to develop and deliver real-world benefits that safeguard the future of environment, community and economy.
Ecology joins GABV at the same time as Paraguayan microfinance bank Vision Banco and Nepalese renewable energy specialists, Clean Energy Development Bank. Peter Blom, GABV Chair and Chief Executive Officer (CEO) of European sustainable bank, Triodos Bank, comments:
The three new members of the GABV epitomise the positive potential of a more diverse banking industry. These banks have different specialist expertise in sectors and regions, they understand their local economies and sectors, and are building long-term, resilient economic growth. Their financial strength and growing impact provides yet more evidence that sustainable banking works and can become an important reference for a more resilient banking industry that serves people first.
GABV is a membership organisation made up of the world's leading sustainable banks from Asia, Africa, Australia, Latin America, North America and Europe. Together, the banks of GABV touch the lives of more than 10 million people in 25 countries. Its members are united by their shared commitment to build a more sustainable future through developing a financial system that supports progressive social and environmental reform.
Tags: finance