Home » News
Ecology Building Society annual results: strong growth, record profits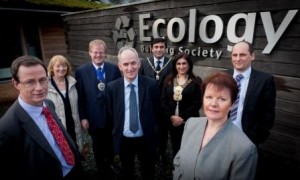 Ecology Building Society today announced record profits and mortgage assets for the financial year ended 31 December 2012. The results are further evidence that an ethical, long-term approach is essential for the future of the UK's financial sector.
The Society's key results included:
Net profit surpassing expectations, increasing by 8% to £459,000 (2011: £425,000) 2.Gross lending of
£14.3m (2011: £18.3m), taking overall mortgage balances beyond £75m for the first time to £77.34m
Savings balances exceeding £100m for the first time, ending the year at £101.92m (2011: £96.14m)
Strong growth in assets at 6.1% (2011: 8.1%).
The growth in net profit adds to Ecology's capital base, increasing the financial strength of the Society and enhancing its ability to undertake further lending.
In 2012 Ecology lent over £14m for sustainable properties and projects, with 84% of mortgages advanced on residential properties (including new builds, conversions and renovations) and 16% on developments for community gain (including charities, housing co-operatives and community businesses). The Society reduced total provisions against possible mortgage losses by 70%, suggesting that the worst effects of the financial crisis have now been weathered and indicating the resilience of the market for sustainable properties.
Ecology experienced positive savings inflow in every month of the year, during which it continued its longstanding commitment to never pay less than 1.00% to savers. All savings and mortgage interest rates have held steady since January 2010, reflecting Ecology's simple, fair and transparent approach.
Ecology's Chief Executive, Paul Ellis, commented:
Our financial success is based on sticking to our core principles: thinking long-term, putting our members first and focussing on our social and environmental impact. Our priority for 2013 is to continue to expand our mortgage book, so we can support more and more people to build or renovate sustainably.
The big five banks saw their profits wiped out by the cost of their past mistakes – isn't it time they realised that putting ethics at the heart of their work is their only route to a sustainable future?
The results come less than two weeks after Ecology was named Financier of the Year and Company of the Year at the 2013 New Energy and Cleantech Awards for its 'integrity and commitment to green causes through three decades of sustained growth'.