Home » Europe, News
Government announces Green Deal 'cashback' scheme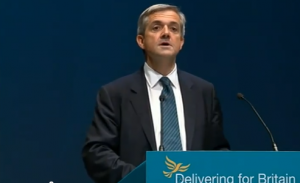 Chris Huhne, Energy minister today announced the launch of the Government's new Green Deal "Cashback scheme"
The Green Deal scheme is aimed at reducing household energy bills within two years. Government estimates that the average household will save £94 plus each year by adopting the policies announced.
The Green Deal aims to increase the energy efficiency of British properties, both domestic and commercial, and involves private firms offering consumers energy efficiency improvements to their homes, community spaces and businesses with no upfront cost to the consumer.
The scheme is funded in part by the energy companies who are expected to contribute around £1.3bn in the first year and up to £14bn by the end of the decade. Whilst the scheme is subsidised by the taxpayer, payments are to be recouped in instalments on the consumer's energy bill.
This means consumers will see the Green Deal charge alongside the reductions in energy use which generate the overall savings on their bill.
If a householder who participates should decide to sell his/her property or to move out, the financial obligation for their property moves to the next bill payer: the charge is paid by the occupier enjoying the benefits.
Each new bill payer should enjoy lower energy bills and reap the benefits of a property improved by the various measures initiated by the previous occupier.
Up to £120million in government cash back is available to those who opt to join in the Green Deal, with early adopters getting higher levels of support. The amount of cash back which can be earned will depend on which energy saving measures are installed but could be as much as £1500 "Cashback" per household.
"The green deal is about putting householders in control of their energy bills and banishing Britain's draughty homes to the history books," Huhne said. "By stimulating billions of pounds of private-sector investment, the green deal will revolutionise the way that we keep our homes warm, making them cosier, more efficient and all at no upfront cost to the householder."
The Green Deal is essentially a loan subsidised by both the Government and the Energy companies. It differs from other loans in that the loan is attached to the property – and not to the homeowner.
The bill-payer is not liable for the full capital cost of the improvements, only the charges due whilst they are the bill-payer. This is a market mechanism, funded mainly by private capital, which the government believes will deliver far more to consumers than any sort of top-down Government programme.
Significant consumer protections are being built into the framework to protect both the original occupier and any who follow after. The scheme will open for applications at the end of January 2013 at the same time as the Green Deal becomes available.
To apply now or find further information on government grants and the 'Green Deal' see the apply for a grant website.